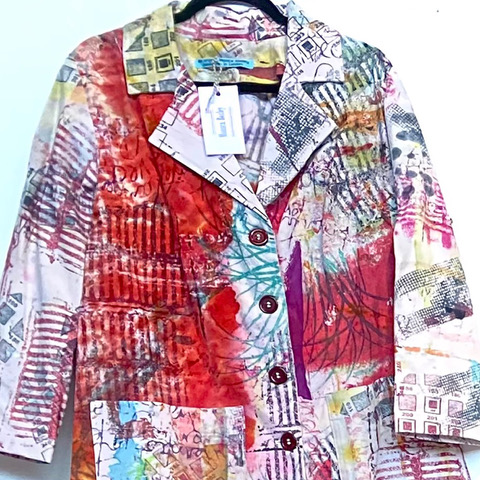 Monica Boxley
Printed textiles
57 Colvestone crescent, E8 2LJ
My passion for exploring materials and processes has led me on a thirty year exciting journey. I have worked with precious metals and beads creating many ranges of stylish jewellery…. This led me to a chance meeting and The Marianne Bag was created in London, by a family who produced the most beautiful bags for many designers. The bags became iconic and collectable, available in many jewel colours and sizes. It was very special to me as it was based on a handbag that my late mother had worn in 1960s. One customer owns at least 16 and talked about creating a 'museum' of her collection.
After ten years the production sadly ended and the family company closed.
My interest had by then moved sideways into textiles. I had always collected vintage fabrics and decided to start creating clothing…. Simple flattering shapes to suit my customers who wanted to 'stand out!'
So now I print and design my own fabrics as well as collect any that catch my eye on my travels. For the past three years I have been working with a group of Sri Lankan women in Matara south Sri Lanka. They have taught me their unique ways of creating batik cloth! This year I will combine some of their pieces with mine to sell in the UK.
This June I'm looking forward to taking part in the E8 Art & Craft Trail…. I hope you'll visit us at 57 Colvestone crescent E8 2LJ
Thanks, Monica Boxley